As of early February, the government shutdown is over – at least for a little while – the stock market has recovered dramatically from its late 2018 plunge, and interest rates are well down from November highs. A good number of large, local, high-tech "unicorns" continue to plan IPOs in 2019. All these are positive economic indicators for the Bay Area real estate market – but indicators have proven to be quite volatile over the past 5 months and future movements are not to be taken for granted.
As detailed in our last report, there was considerable cooling in the market in the second half of 2018. The month of January typically has the fewest sales of the year, sales which mostly reflect activity during the December market doldrums: We don't consider its data to be a reliable indicator of conditions or trends. But activity is picking up, and the beginning of the spring sales season – which in the Bay Area can start as early as February – will soon provide more direction as to where the market is heading.
Median sales prices often fluctuate by month and by season. It is not unusual for them to spike to new peaks during the spring selling season, and then decline and/or plateau afterward (until the next spring). So, the question is: What's going to happen in spring 2019?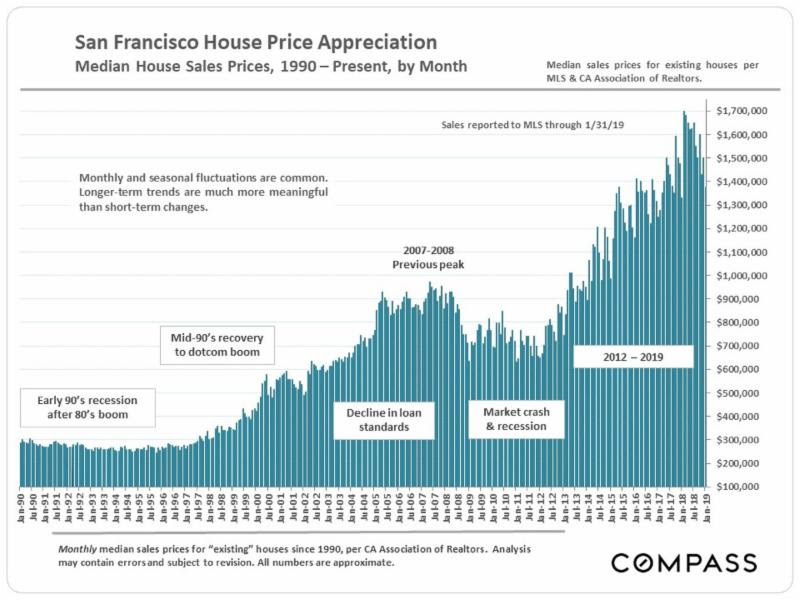 Median condo sales prices, especially on a monthly basis, can be confused by new-project condo sales reported to MLS, which sometimes occur in quantity in a single month. Monthly fluctuations are common, and it is always the longer term trend that is most meaningful.
Since the market recovery began in 2012, home sales at prices under $1 million have dropped by 68%. This chart shows the migration of sales to higher price segments.
Condos sales in San Francisco significantly outnumber house sales, and this trend will continue with the ongoing construction of new-condo projects. The most common property type for sales in the city was the 2-bedroom condo at a 2018 median sales price of $1,375,000. The dominant house sale was of 3 bedrooms at a median sales price of $1,560,000.
As always, we will continue to share our findings on the market that we think are relevant. We hope you find this information interesting. If you, or anyone you know, have questions on the real estate market, or are just curious about what home-improvement projects provide the biggest bang for the buck, we're always just a phone call away (415-595-7661).