For this month's newsletter, I wanted to focus on housing affordability in San Francisco. Homelessness and the lack of housing has been all over the local press, so I felt it time to do a deeper dive into the issue.
Housing Affordability in San Francisco
Housing in San Francisco is well known for being far less affordable than the national average, the state of California, and the Bay Area. Housing has become increasingly less affordable since home prices began rebounding in 2011. Now, San Francisco residents pay more than six times the national average.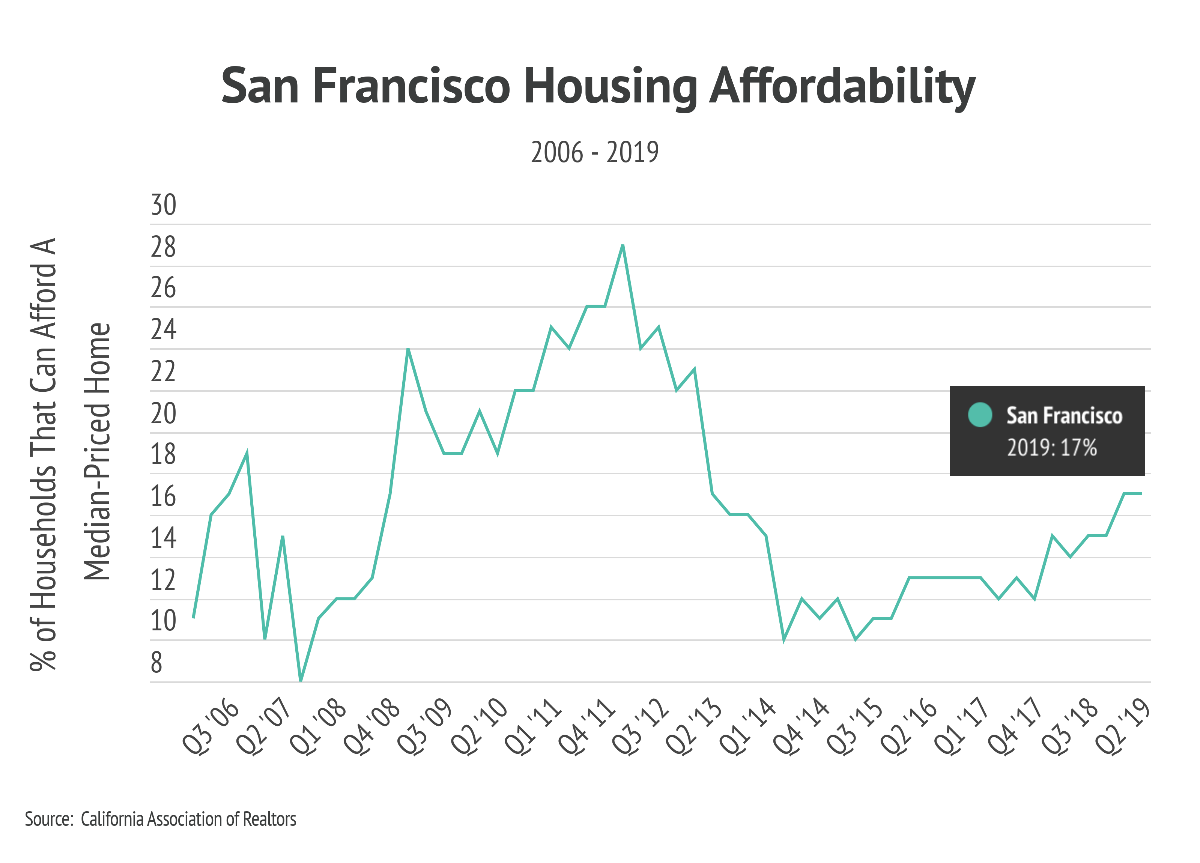 Home Prices vs. Household Income
One reason San Francisco struggles with affordability is that home prices are increasing much faster than incomes. The chart below tracks the growing disparity between home-price appreciation and household income from 2011 until 2017, with housing costs jumping significantly in 2014 relative to income.
The large economic expansion started toward the end of 2012; which, coupled with the high-tech boom, caused a surge in affluence and demand in the area. Foreign investment also contributes to real estate price appreciation, especially on the coasts, although it's hard to quantify exactly how much appreciation is directly due to those investors. As we can see, income rises in a fairly linear, predictable fashion. As the difference between home prices and income increases, affordability decreases.
A Winning Buying and Selling Strategy
To develop a winning buying and selling strategy, there are four key indicators to pay attention to from September: the percentage of homes sold over list price, the percentage of recorded list price, the month's supply, and the number of days on the market. With this information, we can identify whether a housing market is favorable to buyers or sellers.
According to the numbers above, the housing market has favored sellers thus far this year. But that is quickly starting to change. I am beginning to see the Days on Market statistic creep up in October, along with many price decreases. It will be interesting to see if those trends persist into 2020.
San Francisco homes are more affordable than they were in 2014, but they are still unaffordable relative to the rest of the country
Potential buyers should not wait for ideal housing market circumstances or greater affordability in the short term
Median home prices are in line with last year's numbers, so a home should not be priced above comparables if it is priced to sell
Understanding the complexities of housing affordability is critical for both buyers and sellers. We will continue to monitor the market as we help our clients reach their real estate goals. We encourage you to contact us with questions about the current market, or to request a professional evaluation of your home or condo. We're always just a phone call away (415-595-7661) should you need a trusted home improvement vendor as well.
Cheers,
Ron
Cell: (415) 595-7661