Special Mid-Year Edition: San Francisco Real Estate in the First Half of 2019
I hope you are having a great summer. For this month's issue, I wanted to recap the last six months of 2019 for the San Francisco housing market and make some predictions about what will happen during the second half of the year.
The early months of the year showed a soft and slowing market driven by higher interest rates, softening demand, and news that prices had no more room to grow. In February 2019, single family home prices in San Francisco were down 11 percent from their April 2018 highs. By Spring, things began to turn around. In March, the 30-year mortgage rate plummeted. Since then, rates have gone even lower. 30-year fixed mortgage rates are now the lowest they have been in two years.
Two years ago, when rates were this low, the San Francisco housing market was white-hot. Low rates were helping home buyers to finance more expensive homes, thereby helping fuel the market. The latest figures from the San Francisco MLS show the city's median single-family home price is up 9 percent to $1.77 million in June compared with a year earlier.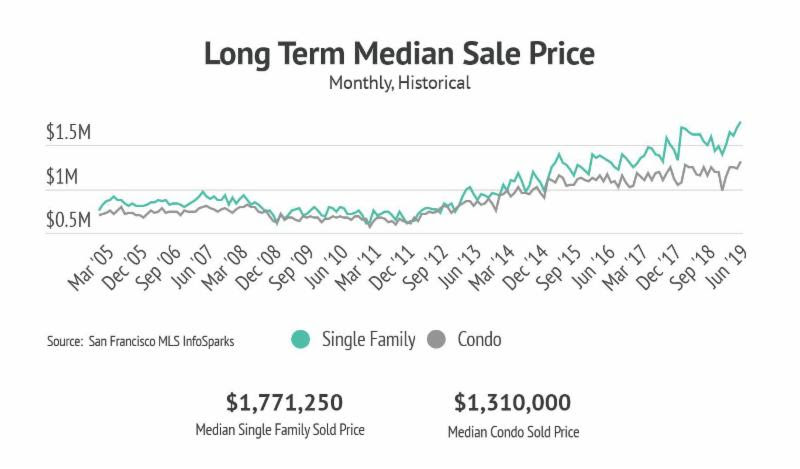 Now, let's review the recent numbers on the market. To start, we look at key metrics that indicate a Buyers vs Sellers market.
San Francisco County is still a seller's market as we progress into summer. Over 80 percent of all homes are sold above their original listing price by an average of 12%.
The month's supply of inventory, a good indicator of whether a particular real estate market is favoring buyers or sellers, is 2.2 months. Typically, a market that favors sellers has less than 6 months of supply. That doesn't mean it is a bad time to buy. Interest rates are so low that the savings a homeowner receives in financing costs will most likely outweigh the premium paid over the listing price.
My simple prediction:  prices will continue to inch up. The reason is that active demand should continue to increase while active listings will not keep up.  
We can take a good look at the competitiveness in the market by looking at the chart below and the percentage of homes sold above list. 
After a cool start to the year, the housing market is as competitive as it has ever been.
Conclusion
To close, back in February, I wrote about the "Cool Winter, Hot Summer", pointing out that the cool market for the first couple months of 2019 showed signs of a possible reversal. The stock market was performing well enough, there were future tech IPOs on the docket, and interest rates were dropping. Barring a major negative economic event, not much is standing in the way for prices to increase through the rest of the year. We are now in the longest economic expansionary period in US history and I don't foresee any event or activity that will effectively slam on the brakes to that momentum.
As always, I'll keep my eye on the market and report back on any insights as I see them.
Cheers,

Ron