Welcome to our September newsletter. This month, we'll be covering the following:
Mortgage rates had little impact on home prices;
The San Francisco housing market has slowed due to inventory; and
The impact of the above trends on affordability and pricing strategies.
Mortgage Rates had Little Impact on Home Prices
First, despite this record-setting run, Gross Domestic Product (GDP) only grew cumulatively by  25%, which is far slower than previous expansions. Furthermore, the Consumer Price Index (CPI), which is a measure of overall inflation, sits stubbornly below the Fed's target of 2%.
The Fed seems to be wrestling with the reality of slowing growth, an aging workforce, and low inflation across the United States. In fact, they labeled the rate decrease a 'readjustment' to get interest rate policies in-line with this new economic paradigm.
The Federal Funds Rate indirectly affects consumer borrowing costs, including mortgage rates. For example, Freddie Mac reports that the 30-year-fixed mortgage rate, which fell to 3.75% last week, is down by more than one percentage point since 2018.
This illustrates that for now, low interest rates are here to stay.
However, something curious happened in July. Despite rates maintaining record lows, San Francisco home prices are down by 7%, as compared to the previous month, and down 2% year-over-year. This is the first time prices have dropped on a yearly basis since April 2019.
Normally, there's an inverse correlation between interest rates and home prices in that lower mortgage rates are usually a boon to the housing market. This month, however, mortgage rates had little impact on the market overall.
The San Francisco Housing Market Slowed Due to Inventory
Despite median home prices rising, the market has shown signs of slowing on every other important indicator on a yearly basis.
Let's start with inventory–also known as active listings– which is seasonal. Active listings usually peak in the summer months and fall in the winter months, around the holiday season. On a three-month rolling average basis (the average of the last three months of activity), there are 315 single-family homes and 423 condos available in the San Francisco market.
A shortage of inventory usually correlates with increasing home prices, but as previously mentioned, both fell in July. Inventory looks like it will continue to be low through the remaining summer and fall months. New listings are down significantly year-over-year, and single-family homes are down 44% from this time last year.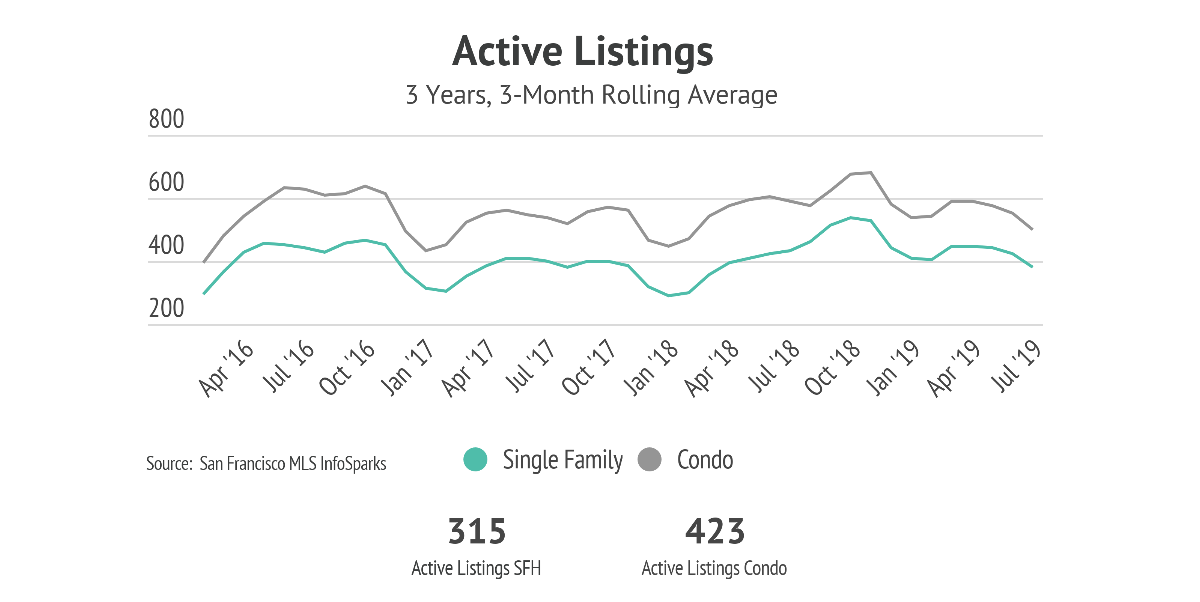 What's Causing This Unusual Trend of High Demand and Stagnant Home Prices
Changes to the tax code limit the interest-rate deduction for homes above $750,000. This change has the most significant effect on homes in the $1 to $2 million range.
In addition to the tax code changes discussed above, here are a few other possible reasons for these trends.
Californians have been staying in their homes longer. Some homeowners are locked into their homes because they would incur higher property and capital gains taxes if they were to move.
Many homeowners are delaying selling their home. These homeowners fear they won't be able to find another home to buy.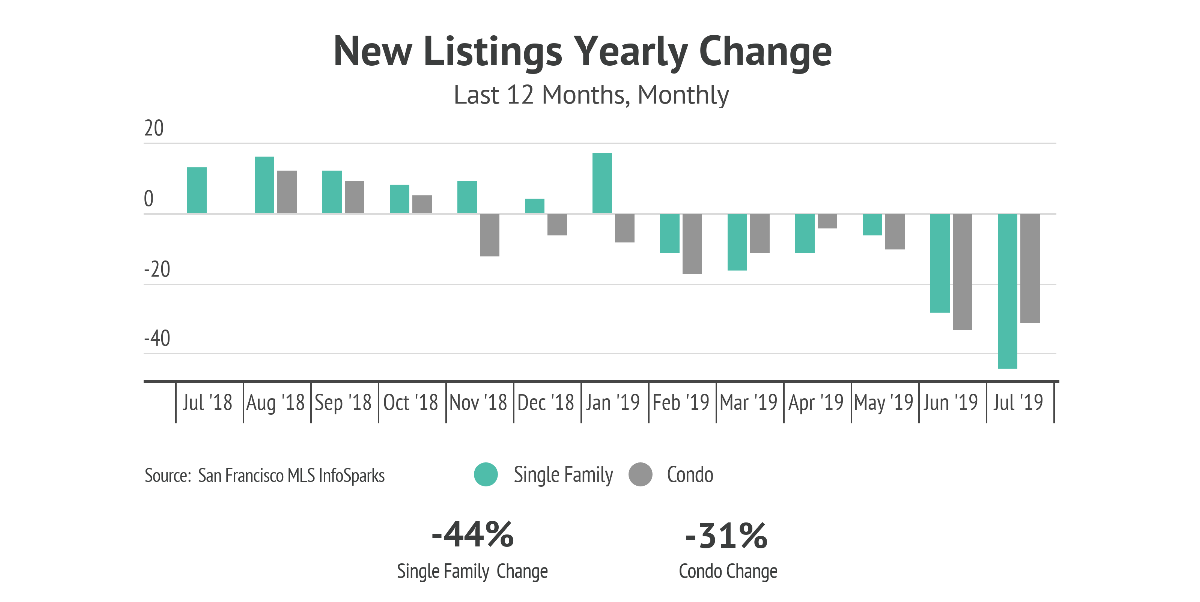 One benefit to the exceptionally low rates and decreased housing prices is affordability. Statewide, monthly mortgage payments have declined, and the same goes for the city of San Francisco.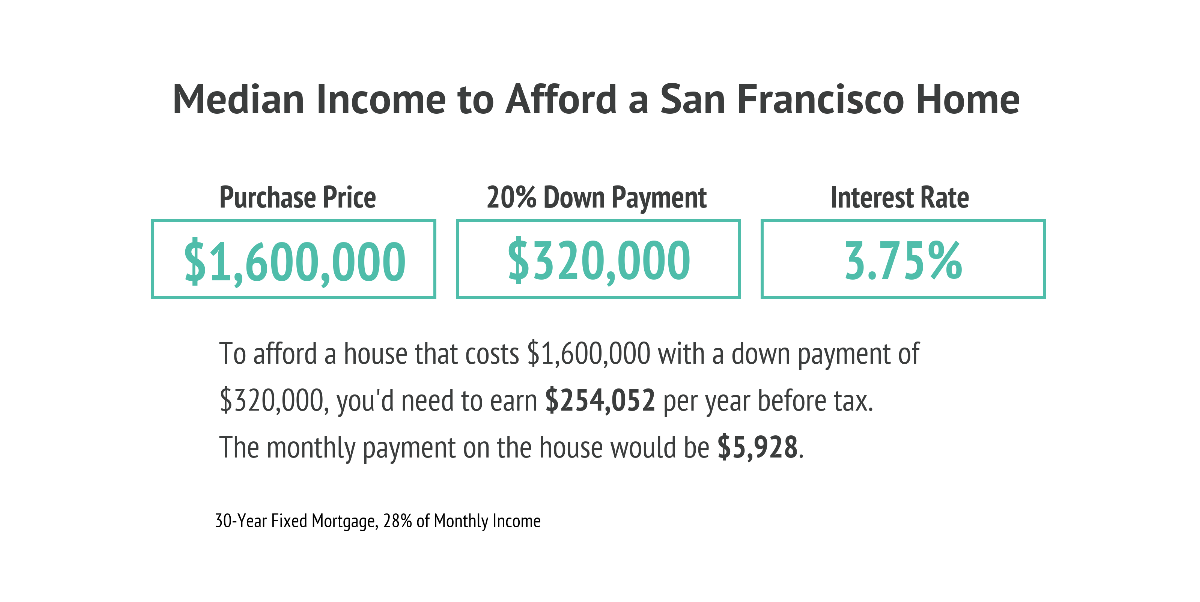 Using Data to Inform Pricing Strategies
Even with July data suggesting that the San Francisco housing market is slowing, becoming more affordable, and backing off all-time high prices – the market still heavily favors sellers.
Homes are selling for above list and inventory continues to shrink.
Conclusion
The San Francisco housing market remains one of the most dynamic in the country because it's defined not only by the country's macroeconomic factors, but also by the tech industry, the IPO market, and foreign buyers. For these reasons, San Francisco county regularly sees more variance in month-to-month median prices.
Broadly, however, the month of August showed signs of caution. September may reverse the trends if prices edge higher once more. However, it's important to be aware that prices are struggling, even against a backdrop of historically low rates.
Price smart; buy smart.
As always, I'll keep my eye on the market and report back on any insights as I see them.
Cheers,

Ron